So last time I mentioned that I was building a new computer for the sake of rebirth and replenish ANNNnnnddd to finish up my music. Apparently I ended up spending a little more cash than I thought my budget went for. Had everything but had to wait for the cooling system, HDD, and the Thermal paste needed to apply on the CPU. I did have some troubleshoot runs where my motherboard wasn't excepting my Windows 8 key code but in the end triumph came and Windows 8.1 got me the update I needed to activate my OS. Now, with everything built and set up for gaming, streaming, video editing, and music I had one final thing; to transfer my FL Studio folders and files. Unfortunately bad news came in the most unexpected way. After trying to transfer All of my files to my new Seagate 1TB HDD the files got corrupted. What does this mean? Simply put; I lost FL Studio 11... 
Hold up! I thought that I could instead just bring the HDD from my old computer to the new one but turns out it's denied its way into the system. It shows the HDD ready and synced BUT it can not register because Windows 8.1 is already installed on the other HDD and I can't have two different OS running on the same computer. So lately I've been having to wait for my friend to bring his copy of FL Studio 11 to run and install back up on the new rig. Other than that this PC rocks!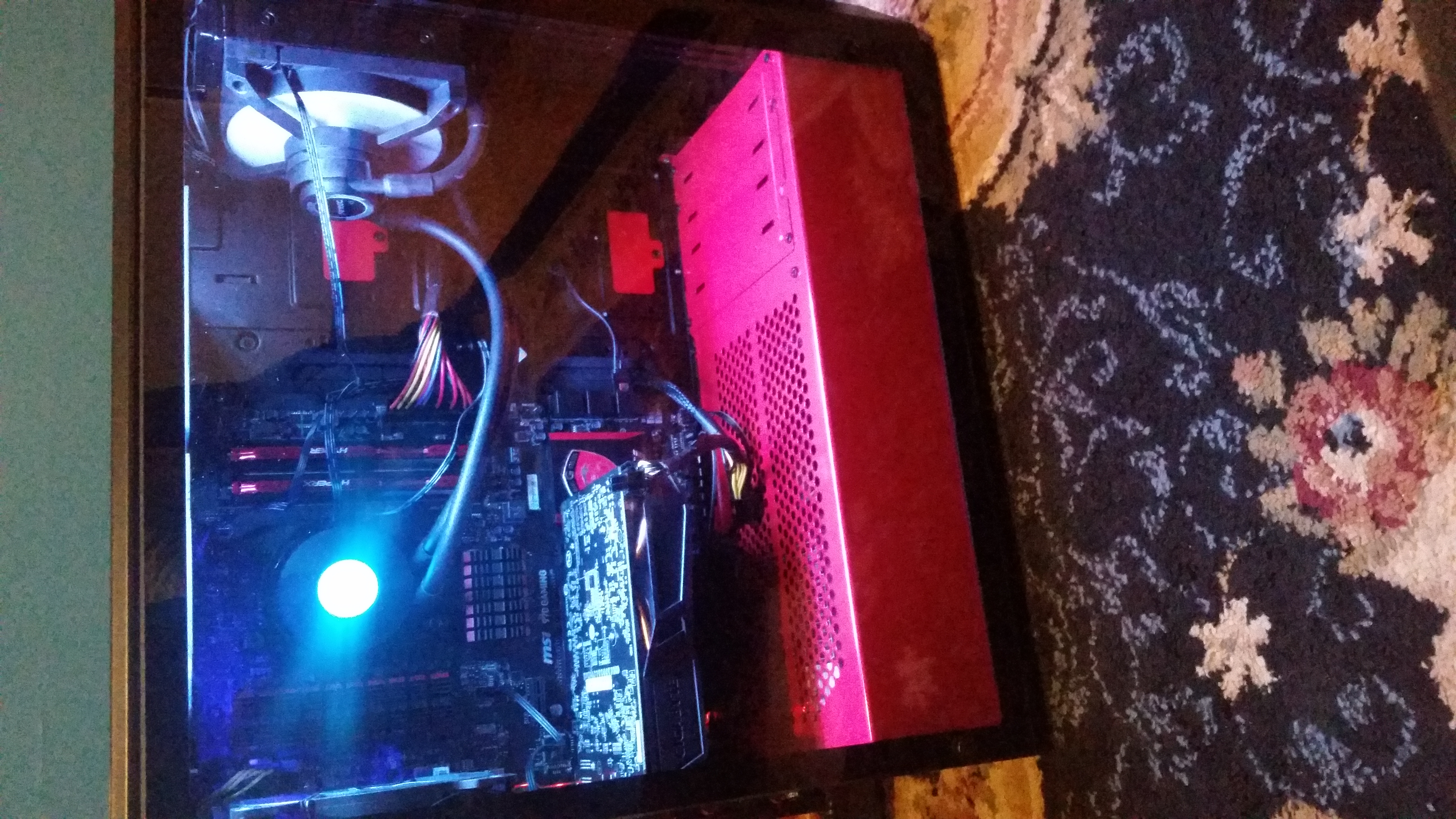 First off this image wasn't doing what it's supposed to do which is flip it to the right but I quess Newgrounds knows best. Second off this is the first PC I've ever got to building and it was one hell of a trip. $600 and it runs like a V12 engine. So for interests and the curious mind heres what it's running on;
AMD FX-8350 Octa-Core Black Edition
MSI 970 Gaming Aura Motherboard w/ Audio Boost II and Killer 2200 Networking, SLI compatible
Kingston HyperX Fury (2x4Gb) DDR4 * Upgrading Soon*
Gigabyte GeForce GTX 1060 ITX Mini 3Gb VRAM w/ VR Ready
Seagate Barracuda 1TB HDD 7200RPM at 6Gbs ( Upgraded to 10Gbs)
Antec Supercharged 650w Liquid Cooling System
Thermaltake 600W Bronze 80+ Power Supply ( Also Upgrading )
5 120mm Fans ( 2 Thermaltakes + 2 Corsair LED Purple + Liquid Cooling Antec Fan )
Of course the fun doesn't stop there. I'm going to upgrade with the following later on;
Kingston HyperX Fury (2x4Gb) DDR4 = 16Gb
Thermaltake Triple Fan Radiator for Liquid Cooling Upgrade
Thermaltake 700W RGB Power Supply
Samsung 250Gb Solid State Drive
Seagate Barracuda 5TB HDD 7200RPM
Thermaltake 120mm RGB Fans Triple Pack
Now this is all too much of course but It's what gonna allow me to crank this puppy all the way to 5.0Ghz of CPU power. Might have to stablize a safe way to conduct Liquid Nitrogen into the bay of the motherboard and some CPU coverage to skyrocket to 6.3 Ghz Overclocked but that will have to wait. Other than that let's go for the better news. 
The new improved webpage for my music has already been made and is still under development to give the community a better experience. Check it out at  https://misakokatsumi635.wixsite.com/retroevolution 
As for the music part I should still be able to make music since I still have my recovery HDD from my old computer so I'll just have to use that one for the time being but in all good hands should be able to make it in time for the Art Inspired Music Contest and for this time around I'm going to have to go with an artist who's work I've loved for many years now. @ErrorCell is an amazing artist bringing a series of time bending art with a background story to it. Check him out for some of the latest work hes done, it's pretty cool. 
So guys that's it for news. More stuff will come around as soon as I fix this FL corrupt files. Check out some of my latest uploads and I'll see you real soon.
Tech <3